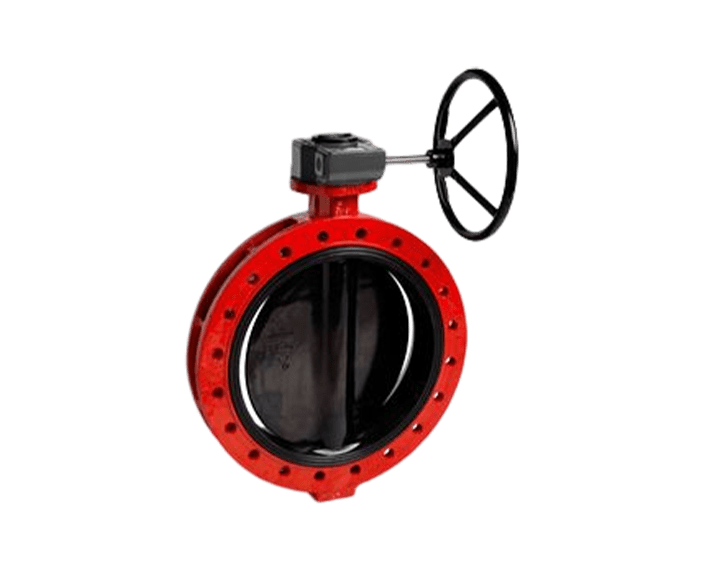 FG(w) Type Butterfly Valve
The FG(w) double flanged type valve is a one-piece body design with flanges to suit all standards (DIN, ANSI, BS, etc.). It also provides dead-end services with downstream piping removed. Its robust design makes it suitable for many applications. It is used in water treatment plants, pump stations, filtration systems, shipbuilding industry and more.
Design construction:
Body type: FLANGED
Characteristics': Concentric and bidirectional
Standard Design according to EN 593
Face to face according to the following

EN 558-1 20 Series (DIN 3202 T3 K1)
ISO 5752 T5 short series
API 609
BS5155 series 4/5 (except. DN 350)

Working temperature – 40 ºC a 210 ºC Depending on the components.
Hydraulic test according to EN 12266-1
Top flange according to EN ISO 5211
Drilling norm EN1092 PN 10/16, ANSI cl. 150
Pressure Classes:
16 bar DN 080-150
10 bar DN 200-1600
16 bar DN 200-1600 optional
25 bar DN 080 – 0300 Special series
End Configurations:
Suitable for ANSI 150, DIN N6/10/16 Flange.
Size Range:
3″ up to 64″ (DN 80 – 1600)
Field of Use:
Filtration
Water treatment
Water distribution
Cooling systems
Shipbuilding
Body Materials:
EN GJL-250 (DIN 1691 GG 25)
EN GJS 400-15 (DIN 1693 GGG 40)
ASTM A 216 / A216M WCB
ASTM A 351 / 351M CF8 / CF8M
EN 1982 CuSn10-C (CC480K)
EN 1982 CuAl10Fe5Ni5-C (CC333G)
EN 10025 S 275 JR
AISI 304 / 316
EN AC 47100 / EN AC 46100
Discs:
EN GJS 400-15 (DIN 16913 GGG 40)
ASTM A 216 / A216M WCB
ASTM A 351 / 351M CF8/CF8M
EN 1982 CuSn10-C (CC480K)
EN 1982 CuAl10Fe5Ni5-C (CC333G)
EN GJS 400-15 (DIN 1693 GGG 40) + EPDM
EN AC 44100
ASTM A 351 / 351M CD4MCu-N NORIDUR
URANUS B6-904L
4469
Shafts:
AISI 420 / 316
4410
4462
MONEL 400/ MONEL K 500
O-Ring:
NBR / VITON