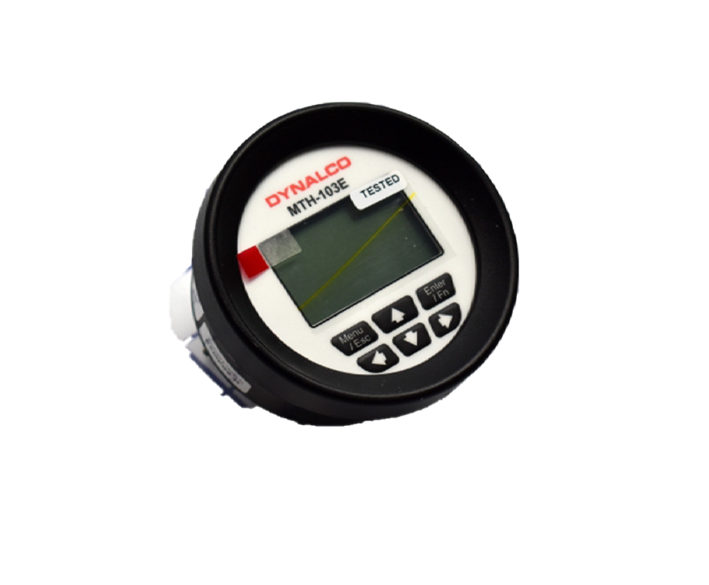 Stock
MTH-103E Tachometers
The MTH-103E is a newer version of the MTH-103D. The function, package size and wiring are the same although the MTH-103E has a keypad that replaces the old push button, making programming easier and quicker. This product features a 5- digit tachometer, hour meter, and trip. The trip can be programmed to activate on overspeed, under speed (Class C), or hours. It may be magnetic pickup or DC-powered. CSA-approved Class I, Division 2, Groups A, B, C, and D. When powered by an approved pickup, it is approved Class I, Division 1, Groups A, B, C and D
Selectable overspeed, under speed (Class-C) and hours trip
Both signal and power may be derived from magnetic pickup.
High accuracy: 5-digit display, 1 rpm resolution,100,000-hour range.
Field configurable with front keypad for any number of pulses per revolution, trip point value, and for preset / reset hours.
Displays speed, hours, and setpoints on separate screen
Displays Alarm Log history
Fast overspeed reaction time of 100 msec
Backlit display when DC powered
Standard SAE case size fits engine panels with 3-3/8″ openings.
High shock and vibration resistance.
Gasketed and spray proof.
Highly resistant to electrical noise.
Specifications
Power: Magnetic pickup or 9 – 30 VDC
Display: Alphanumeric LCD
Input Signal Frequency: From 10 to 13,000 Hz
Minimum required input signal voltage is 4.0 VAC when pickup powered and 1.5 VAC when DC powered
Maximum permissible input signal is 15 VACS
Tachometer Accuracy: 1 RPM resolution, within 0.2% under all combined environmental conditions
Hour meter: 100,000-hour range (99,999), 1-hour increments. Display is visible and time accumulates only when the signal is applied to terminals A and B
Trip: Setpoint value is field-settable directly in RPM or hours (counts up or down). Normally open solid-state contacts at terminals 5(+) and 6(–) close on trip.
Reaction time of 0.1 seconds. Maximum continuous contact rating of 0.15 amps, 400 VDC
Trip Accuracy: ±1 unit, maximum
Hour meter Accuracy: 0.2% of reading. Retains count in memory when signal or power is removed.
Environment Temperature:
Operating: –4 to +158 DegF (–20 to +70 DegC)
Storage: –40 to +195 DegF (–40 to +90 DegC)
Vibration: Modified MIL-810E (N3)