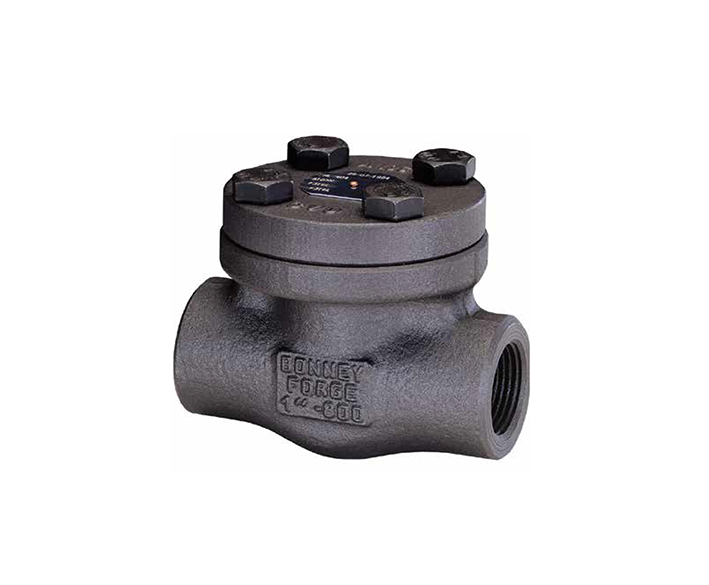 PISTON& BALL CHECK VALVE
Piston and ball check valves, like all check valves, are used to prevent back flow in the line. Standard valve design has no spring in order to minimize cracking pressure and pressure drop, it will only function properly when installed in a horizontal line. As an option the designs can include a spring to assist closing and for use in 90-degree styles installed in vertical lines.PISTON CHECK VALVE
The pressure of the fluid passing through a system opens the valve, while any reversal of flow will close the valve. In Piston, or lift, check valves a body-guided disc moves within the body bore. The body guide ensures alignment of the seat and disc when the valve closes. The valve is installed with the flow under the disc, so that the inlet line pressure and flow rate will force the disc to "lift" off the seat and allow the line fluid to flow through the valve. Should the flow suddenly reverse itself, the disc will automatically and quickly, assisted by the weight of the disc, be forced to the closed position, preventing the line fluid from returning. Exercise caution when these valves are used for dirty media because that media could cause the disc to stick inside the body bore.

BALL CHECK VALVE
The function of ball check valves is similar to the piston check, but the ball check valves use a "ball" inside the body to control the movement of flow.
The ball is free to rotate, resulting in even wear and a wiping action between the ball and seat. This feature makes ball checks useful for viscous media.

Belfast Controls Equipment Trading LLC are the official distributor and stockiest in U.A.E market, and we stock Forged Gate Valves, Globe Valves, Check Valves, Ball Valves in Dubai
Applicable standard range
SIZE : FROM NPS 1/2 TO NPS 3 or FROM DN 15 TO DN 80
CLASS : FROM ASME 150 TO ASME 4500
Applicable standards
Design : API 602 , ISO 15761 , ASME B16.34
Inspection & testing : API 598
Marking : MSS SP-25
Rating : ASME B16.34
Fugitive emission : N.A.
Applicable end finishes
Face to face : ASME B16.10
End to end : Manufacturer standard or ASME B16.10
Socket weld : ASME B16.11
Screwed ends (NPT) : ASME B1.20.1
Flanged ends : ASME B16.5
Butt welding ends : ASME B16.25
Product features
1). Standard construction of body-bonnet connections are bolted bonnet or welded bonnet type.
2). Full die forged structure for all pressure containing parts.
3). Flanged valves are provided with flanges integral with the body forgings.
4). Standard gasket design for bolted-bonnet valves is spiral wound type up to class ASME 1500.
Ring Joint gaskets are standard for ASME 2500 and above. SPW/RJ are available on request for all pressure classes as option.
5). Fast response time to prevent backflow and adequate valve seating to prevent seat slamming.
6). Standard seat design is integral type, screwed-in type is available as an alternative construction.
7). Best-in-Class CV values.
8). Low cracking pressure design.
9). Closure member can be spring loaded for positive closure in any position.
10). Sealing surfaces are machined to the tightest tolerances and lowest roughness to ensure trouble free shut off.
11). Precision guided closure member for prefect seating surfaces alignment.