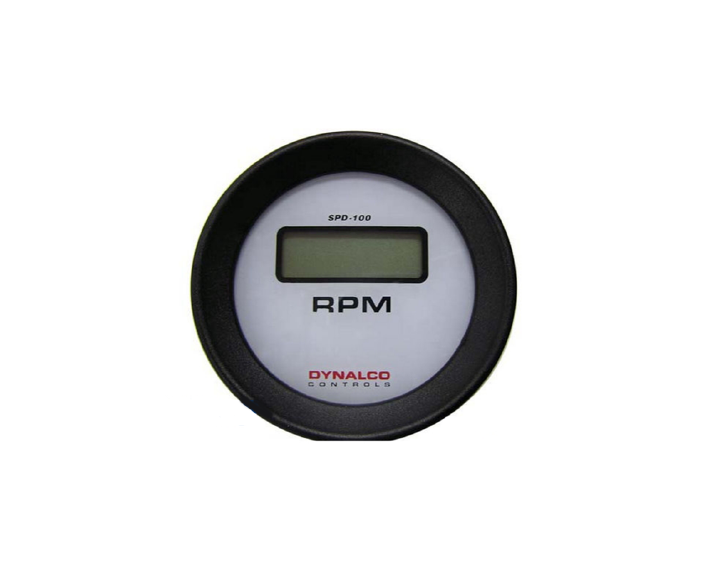 Stock
SPD-100 Tachometer
The Dynalco SPD-100 is a solid-state, intrinsically safe tachometer. The gate time range (0.26 to 5.70 seconds) is field- programmable. It is well- sealed for rugged indoor and outdoor applications. It has 4-digit, unlighted, LCD display. CSA and ABS Type approved.
Tachometer: Signal-Powered, 4-Digit. Intrinsically Safe, Unlighted Display
SPD-100 Belfast having stock from Dynalco
Signal and power derived totally from magnetic pickup or pulser.
Intrinsically safe. Can be used in hazardous environments with approved Dynalco pickups.
No power supply connections. High immunity to electrical noise.
Can be field-calibrated.
High accuracy: 1 rpm resolution.
High shock and vibration resistance.
Standard SAE case size fits panels with 3-3/8 inch (86 mm) openings.
Gasketed and spray-proof.
Ideal for OEM use.
Can be paralleled with governors and/or speed switches.
Can share existing pickups or pulsers; draws only microamperes.
Ground-free terminals have no polarity, easy installation.
Specifications
External Power Requirements: All models are signal powered. Lighted versions: 12 or 24 Vdc, depending on model.
Display: Four active digits (0 to 9999), non-blinking LCD display; character height of 0.5 inches (14 mm). Display contrast increases with increasing ambient light.
Input Valve Voltage: From pickups, pulsers, shaft encoders, etc.
Minimum signal amplitude: 2.5 Vrms.
Maximum permissible signal: 15 Vrms.
The SPD-100 automatically limits pickup signals at approximately 10 volts peak-topeak. Input impedance is 100 Ω in series with a 6-volt Zener diode.
Input Signal Frequency: Maximum input signal frequency of 20,000 Hz. Lowest frequency range limited by gate time and corresponding numerical display.
Isolated Circuit: All circuitry is totally floating, i.e., totally isolated and insulated from the case and from ground.
Operating Temperature Range:
–5o F to +175oF (–20o C to +80oC).
Storage: –40oF to +195oF (–40oC to +90o C).