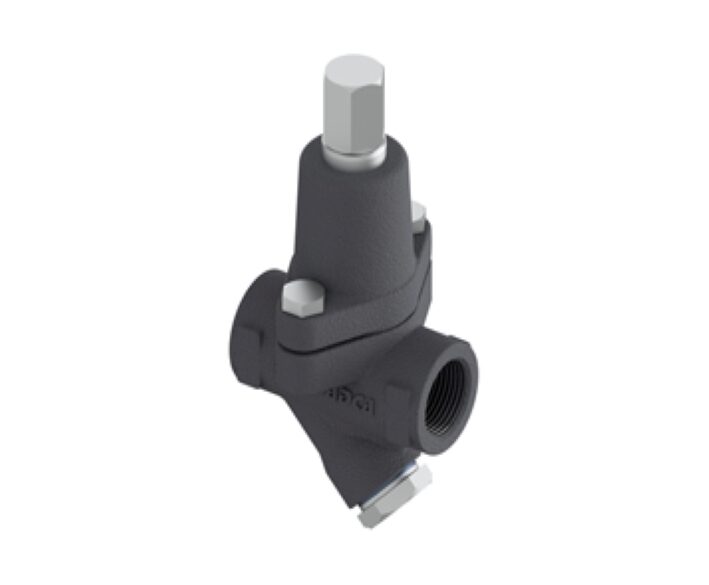 Steam Traps and Air Vents BM20R
The BM20R series bimetallic steam traps and air vents are simple
and robust traps, recommended for steam process applications
where condensate sensible heat can be recovered, steam tracing
lines, drip points, storage tank coils, steam air venting, etc. The use of
condensate sensible heat reduces steam consumption.
Modulating discharge. Discharges condensate below steam temperature. Easy condensate temperature adjustment without disconnecting the trap from the piping. Independent valve and seat placed in the low velocity flow area reduces erosion and extends product life. Low maintenance costs consequence of the split regulator design. Excellent air discharge. Freeze protection of condensate lines. Operates on superheated steam. Unaffected by water hammer and vibrations. Built-in strainer.
OPTIONS:

Blowdown valve and Seat with check valve.

USE:

Saturated and superheated steam.

AVAILABLE MODELS:

BM20R – carbon steel, with external adjustable
temperature control.

SIZES:

1/2" to 1"; DN 15 to DN 25.

CONNECTIONS:

Female threaded ISO 7 Rp or NPT.
Flanged EN 1092-1 PN 40.
Flanged ASME B16.5 Class 150 or 300.
Socket weld (SW) ASME 16.11.
Butt weld (BW) ASME B16.25 on request.

INSTALLATION:

Horizontal installation recommended, can be installed in any position.
MATERIALS

DESIGNATION

MATERIAL

Body

P250GH / 1.0460

Cover

P250GH / 1.0460

* Gasket

Stainless steel / Graphite

* Seat

Hardened stainless steel

* Plug

Hardened stainless steel

* Seat gasket

Copper

* Regulator

Bimetal

Adjusting screw

AISI 304 / 1.4301

Seal ring

Viton

* Gasket

Copper

Cap nut

AISI 304 / 1.4301

* Strainer screen

AISI 304 / 1.4301

Strainer cover

A 105 / 1.0432

* Gasket

Stainless steel / Graphite

* Blowdown valve

AISI 304 (see IS 1.150)

Ball check valve

AISI 440C / 1.4125