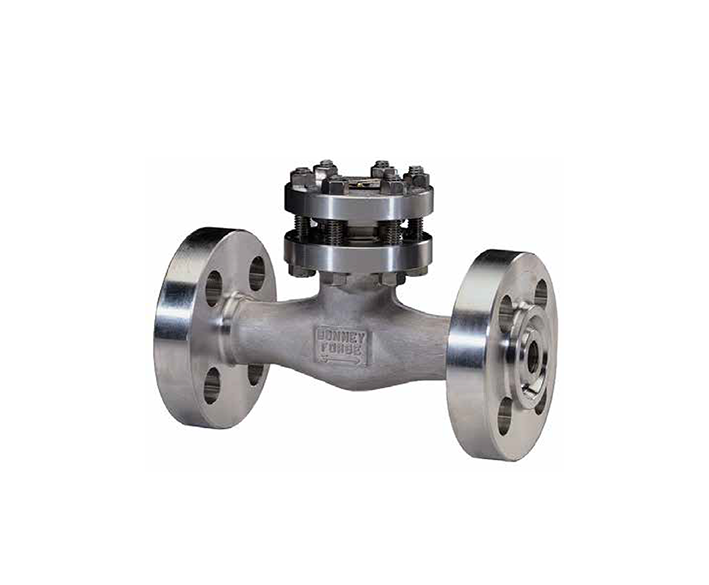 Stock
SWING CHECK VALVE
Swing check valves, like all check valves, are used to prevent back flow in the line. The pressure of the fluid passing through a system opens the valve, while any reversal of flow will close the valve. The swing check valve functions by allowing flow forces to move the closure element, it is a hinged clapper which swings or rotates around a supporting shaft.
The disk swings away from the valve-seat to allow flow in the forward direction, and returns to the valve-seat when upstream flow is stopped, to prevent backflow.
Swing check design is one of the most common and best check valve for general-purpose use. These valves produce the lowest pressure drop, when compared with other check valves of the same size, the internal contours and shapes allow them to fully open at low fluid velocities and create a smooth flow path through the valve.
The design is simple and easy to maintain and can be used for either horizontal or vertical (fluid flowing upward) pipe layouts. Because of their design, swing checks are not fast-closing valves due to the travel distance from full open to close.
Belfast Controls Equipment Trading LLC are the official distributor and stockiest in U.A.E market, and we stock Forged Gate Valves, Globe Valves, Check Valves, Ball Valves in Dubai
Applicable standard range
SIZE : FROM NPS 1/2 TO NPS 3 or FROM DN 15 TO DN 80
CLASS : FROM ASME 150 TO ASME 4500
Applicable standards
Design : API 602 , ISO 15761 , ASME B16.34
Inspection & testing : API 598
Marking : MSS SP-25
Rating : ASME B16.34
Fugitive emission : N.A.
Applicable end finishes
Face to face : ASME B16.10
End to end : Manufacturer standard or ASME B16.10
Socket weld : ASME B16.11
Screwed ends (NPT) : ASME B1.20.1
Flanged ends : ASME B16.5
Butt welding ends : ASME B16.25
Product features
1). Standard construction of body-bonnet connections are bolted bonnet or welded bonnet type.
2). Full die forged structure for all pressure containing parts.
3). Flanged valves are provided with flanged integral with the body forgings.
4). Standard gasket design for bolted-bonnet valves is spiral wound type up to class ASME 1500. Ring Joint gaskets are standard for ASME 2500 and above. SPW/RJ are available on request for all pressure classes as option.
5). Design of disc and hinge assembly to generate a closing moment to provide adequate closure and sealing at low pressures.
6). Sealing surfaces are machined to the tightest tolerances and lowest roughness and to ensure trouble free shut off and cycling.
7). Best-in-Class CV values.
8). Low cracking pressure design.