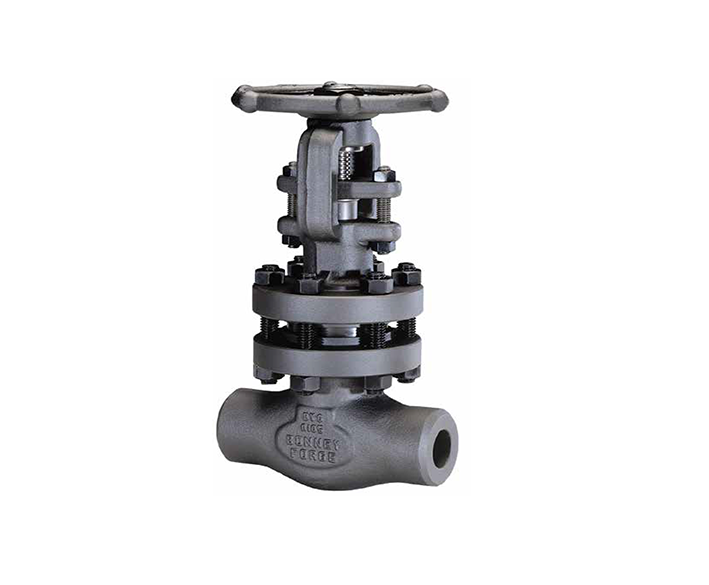 Stock
T-PATTERN GLOBE VALVE
Globe valves are used for flow regulation, frequent operation, increased flow resistance or for positive shut off when closed. Globe valves are closing-down valves in which the closure member is moved squarely on and off the seat. By this mode of disc travel, the seat opening varies in direct proportion to the travel of the disc. This proportional relationship between valve opening and disc travel is ideally suited for duties involving regulation of flow rate. Globe valves can also be used for on-off duty, the seating load can be positively controlled with high sealing capacity.
The change in direction of fluid flow through these valves produces increased resistance and pressure drop. The standard Straight "T"-Pattern valve body is the most common, but because of its tortuous flow passage it offers the highest resistance to flow of the patterns available. Globe valves are used in many industrial applications including the oil and gas industry, pharmaceutical, manufacturing, automotive, and marine. Globe valves are also recommended for services requiring frequent operation and positive shut off.
Belfast Controls Equipment Trading LLC are the official distributor and stockiest in U.A.E market, and we stock Forged Gate Valves, Globe Valves, Check Valves, Ball Valves in Dubai
Applicable standard range
SIZE : FROM NPS 1/2 TO NPS 3 or FROM DN 15 TO DN 80
CLASS : FROM ASME 150 TO ASME 4500
Applicable standards
Design : API 602 , ISO 15761 , ASME B16.34
Inspection & testing : API 598
Marking : MSS SP-25
Rating : ASME B16.34
Fugitive emission : API 624 – ISO 15848
Applicable end finishes
Face to face : ASME B16.10
End to end : Manufacturer standard or ASME B16.10
Socket weld : ASME B16.11
Screwed ends (NPT) : ASME B1.20.1
Flanged ends : ASME B16.5
Butt welding ends : ASME B16.25
Product features
1).Standard construction of body-bonnet connections are bolted bonnet or welded bonnet type.
2).Full die forged structure for all pressure containing parts.
3).Flanged valves are provided with flanges integral with the body forgings.
4).Standard gasket design for bolted-bonnet valves is spiral wound type up to class ASME 1500.
Ring Joint gaskets are standard for ASME 2500 and above. SPW/RJ are available on request for all pressure classes as option.
5).High quality packing ( acc.to API 622 ) for reliable tightness and low emission performance in fully compliance with API 624.
6).Standard seat design is screwed-in type, integral type is avaliable as an alternative construction.
7).High flow capacity port sizes and disc retraction minimize flow velocities and maximize valve service life.
8).Outside Screw and Yoke (OS&Y).
9).Low operation torque design.
10).Self aligning two piece packing gland.
11).Body-guided disc for prefect seat and disc alignment.