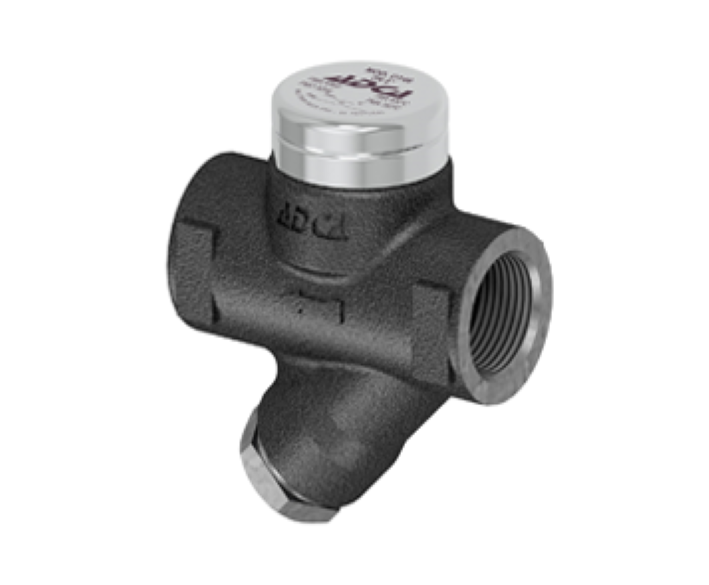 Thermodynamic Steam Traps DT46
The thermodynamic DT46 disc steam traps are compact and
lightweight-easy to install traps, excellent for high pressure systems,
including steam tracing applications.
The insulation cover ensures a consistent operation and makes
it particularly suitable for those applications where the weather
conditions, such as rain and wind, may affect the normal operation.
These traps have only one moving part and offer a wide operating
range, without adjustment.
Intermittent discharge.
Integral bimetallic air vent to avoid air blockage.
Complete with insulation cover to reduce heat and efficiency losses.
Operates with superheated steam.
The seat and disc can be easily replaced in field without removing the
trap from the line.
Hardened seat and disk with duly lapped surface for longer service
life.
Unaffected by water hammer and vibrations.
Built-in easy-to-clean strainer.
Blow-out proof seat gaskets suitable for high pressure conditions.
OPTIONS:

Blowdown valve

USE:

Saturated and superheated steam.

AVAILABLE MODELS:

DT46 – carbon steel

SIZES:

1/2" to 1"; DN 15 to DN 25.

CONNECTIONS:

Female threaded ISO 7 Rp or NPT.
Flanged EN 1092-1 PN 40, PN 63 or PN 100.
Flanged ASME B16.5 Class 150, 300 or 600.
Socket weld (SW) ASME B16.11.
Butt weld (BW) ASME B16.25 on request.

INSTALLATION:

Horizontal or vertical installation.
MATERIALS

DESIGNATION

MATERIAL

Body

P250GH / 1.0460

Cover

AISI 304 / 1.4301
AISI 303 / 1.4305

* Gasket

Stainless steel / Graphite

* Seat

Hardened stainless steel

* Valve disc

Hardened stainless steel

* Bimetal ring

Bimetal

* Washer support

AISI 304 / 1.4301

* Tube

AISI 304 / 1.4301

* Strainer screen

AISI 304 / 1.4301

* Gasket

Stainless steel / Graphite

Plug

A105 / 1.0432

Insulation cover

AISI 304 / 1.4301