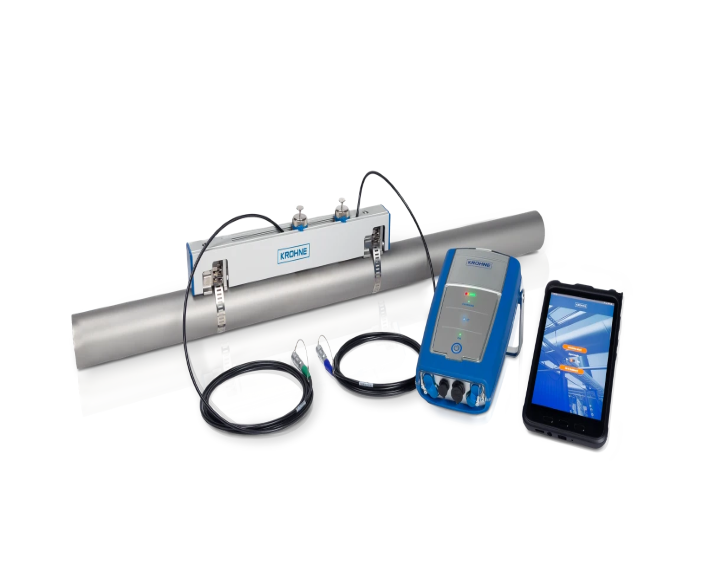 Ultrasonic Flow meter OPTISONIC 6300 P
The OPTISONIC 6300 P is a portable, battery-powered ultrasonic clamp-on flowmeter for temporary flow measurement of (non-)conductive liquids in virtually all industries. It can be used at virtually any location without interrupting the process or cutting pipes. Due to its flexibility, the flowmeter is equally suited for comparative measurements on stationary measuring equipment (e.g. pumps, flowmeters etc.) or for use as a short-term replacement of faulty devices. The clamp-on flowmeter comes with a measurement option for thermal energy applications as standard.
Flexible clamp-on flow measurement with battery-powered signal converter and datalogger
Bi-directional measurement where inline measurement is not possible or desirable
Easy installation without process interruption: zero impact on/risk to the process and no cutting of pipes necessary
Real-time measurement or data-logging
2-channel converter for dual path or dual pipe measurements
User-friendly operation using a mobile smart device plus
https://play.google.com/store/apps/details?id=nl.krohne.optisonic6300p&hl=en_US:
Data transfer via secure wireless Bluetooth® or USB cable connection
User-friendly, graphical installation wizard for immediate start-up
Many options for collecting, monitoring, analyzing and storing measurement data
Free download for Android
Easy and flexible sensor mounting using mounting rails
Click and turn mechanism on fixing units for quick and easy installation or removal
Energy measurement with PT100 and I/O box
Useful accessories available from one source, e.g. factory configured tablet, cable extensions, magnetic fixation units, thickness gauge, etc.
Delivered in hardcase (flight case) or portable soft case with organizer trays
FIELD OF USE
Temporary flow data collection
Flow related problem solving
Checking of inline flowmeters
Troubleshooting and temporary replacement of meters
On-site verification of process flows
Leak detection
Water and wastewater industry
Flow control in water supply networks
Leakage control
Pump verification
Checking of water wells
Periodic hydrant flow testing
Conventional and nuclear power industry
Cooling water
Boiler feed water
Chemical and other process industries
Process start-ups and inspections
Purified water, chemicals etc.
Cooling systems
HVAC industry
Commissioning of HVAC systems
Boiler testing
Checking and servicing of heating and aircon systems
Pump control
Process Connection
Other connections

Fixing units with straps or magnets

for pipes DN15…4000 / ½…160″