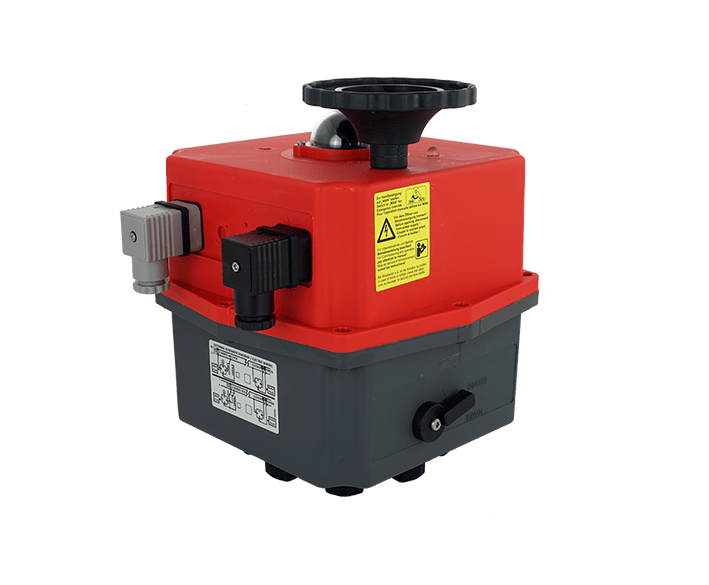 Stock
J4C Electrical Actuators
J4C Series works with Brushless motor.
Multi voltage electrical Actuators
Voltage:

240 VDC /VAC 50 /60 HZ-0/+5% (S Series)
: 120 VDC /VAC 50 /60 HZ-0/+5% (B Series)

Available Torque range: 20Nm-300Nm
Working angle: 0º- 270º
Temperature range: -20ºc to +70ºc
Protection IEC 60529 rating: IP 67
Manual Override
Torque range- 20Nm > 300Nm
ISO 5211 Plate
75% Duty
Electric Torque Limiter
DOME indicator
Auto. temp. Control
2 additional volt-free end of travel confirmation switches.
Automatic anti-condensation heater.
Multi-coloured status light.
Communication system both MODBUS protocol or via BLUETOOTH
Options
1. BSR (Battery Failsafe)
The drive moves in the event of a power failure to a predetermined
safe position (Open or Closed)
Variations: NC, NO
2. DPS (Digital Positioning System)
The actuator can be freely positioned (within the present range) via an input
signal and outputs its position via an output signal.
Available Input Ranges: 0-10V, 1-10V, 0-20mA, 4-20mA
3. 3 Position
The actuator can additionally move to a third middle position.
Standard: 0°-90°-180°
4. Fixed Line Wiring
The actuator is supplied with a fixed voltage on one of the control lines and drives to a given
position based on whether voltage is supplied to the second control line or not.
Variations: NC, NO 
5. Potentiometer
A potentiometer in the actuator indicates the actual position as an ohmic value.
Variations: 1kΩ, 5kΩ, 10kΩ
6. B-Series (12V Variant)
The actuator is operated with a supply voltage of 12V AC / DC.